BLOG
How to get an EPD Certification, Why is it important?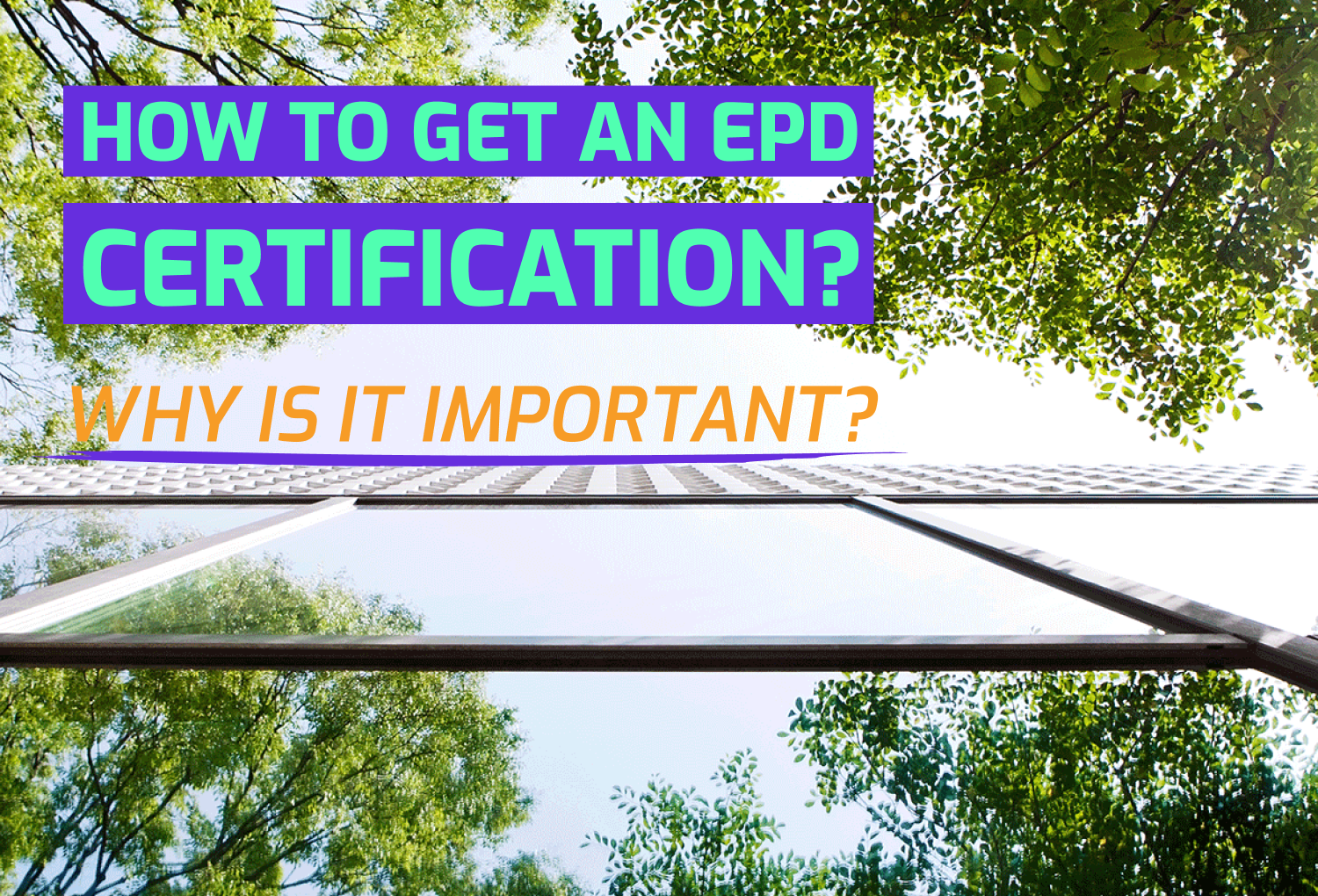 is difficult to ignore the effects we, as the human race, are having on the environment. Consequently, it is of no surprise that sustainability has become a key factor for those involved in industries such as construction, textile, packaging, materials, chemistry etc. that use natural resources while producing physical and chemical waste throughout their operations on a regular basis. 
Textile industry, for example, is one of the major polluting industries in the world. From dyeing and finishing products, textile production is estimated to be responsible for approximately 20% of global clean water pollution. Washing synthetics releases an estimated 0.5 million tonnes of microfibres into the ocean a year. Chemical industry, one of the biggest industries in the world, has the third-largest carbon footprint. Chemical sector consumes more than 10% of fossil fuels produced globally and is estimated to emit 3.3 gigatons of greenhouse gas emissions a year. And finally, according to new research, the construction industry contributes to 23% of air pollution, 50% of the climatic change, 40% of drinking water pollution, and 50% of landfill wastes. With the effects of climate change, all these polluters face increased pressure placed on their shoulders to minimise their environmental impact.
The heavy toll the human race has put upon the environment is difficult to ignore anymore. Consequently, sustainability has become both a key factor and an important concept used to differentiate companies within the construction industry, especially due to increased pressure placed on specifiers by both international and governmental policies, in order to minimise the environmental impact, from building to the required materials during the construction process. Therefore, it is crucial that specifiers are aware of what Environmental Product Declarations (EPDs) is, and the benefits, such as detailed information it can provide about products and their sustainable attributes, as it has the ability to impact the decision-making process.
What is EPD Certification?
An Environmental Product Declaration (EPD), also known as a type III environmental declaration, is an important validation tool that provides quantified and independently verified environmental information of goods and services. For manufacturers, it provides transparent data about the environmental sustainability of their products, and for specifiers, it helps them make informed purchasing decisions. 
EPDs are based on the ISO 14025 standard and contain objective, comparable, and third-party verified data, in order to transparently report a product or a service's environmental impact/performance, from a lifecycle perspective.. One can think of EPDs as similar to nutrition labels on food products but are intended for quantifying environmental attributes. 
Although an EPD is the final report, the foundation of any EPD is a life-cycle assessment (LCA). Meaning, it allows companies and organisations to evaluate their products' performance over their entire life-cycle, from raw material extraction to its disposal. This evaluation of the full value chain starts from the extraction of raw materials and includes both the manufacturing processes and distribution. Additionally, it also evaluates a product's end-of-life value, such as whether it can be recycled or reused.
EPD can be broken down into two sections in what it consists of:
EPD background project report, which is not a part of the public communication,  includes a systematic and comprehensive summary of the LCA project to support the third-party verifier whilst verifying the EPD.
EPD report providing data and results to be shared with the public.
How to get an EPD Certificate?
Companies can get EPDs either by completing the data collection on their own or by third-party providers. The framework of creating an EPD includes the following steps;
Find an applicable PCR
Conduct an LCA
Create your EPD
Verify, Register, and Publish
First, the product is defined using the appropriate Product Category Rules(PCR). PCRs define the specific rules and requirements for EPDs of a certain product category. PCRs provide the calculation and reporting requirements for creating  EPDs.
Second, the product Life Cycle Assessments (LCAs) are conducted and verified. An LCA is a comprehensive report that documents the impacts of a product and must adhere to ISO 14040 and ISO 14044's internationally recognized principles, framework and methodology. Once an LCA is conducted on a particular product, it must be verified by an independent party. This part can be done either in-house or with the assistance of a specialist who specialises in LCA and environmental declarations.
Then, the results of the LCA study  are compiled in the EPD reporting format.
Third, a Life Cycle Environmental Impact Analysis (LCIA) is performed by an LCA expert using necessary software and a variety of assessment tools.
And finally, the LCA project and the EPD  are verified, for registration and publication.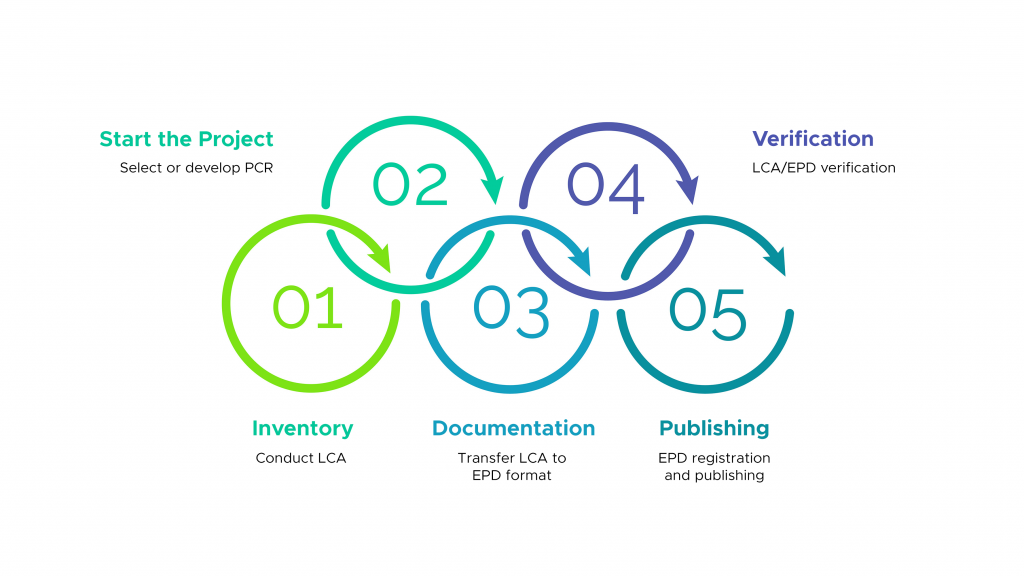 Why is EPD important for the construction industry? 
By making it possible to compare the environmental impacts of different materials and products, EPDs can persuade decision-makers to opt for more sustainable options, and therefore it can support carbon emission reduction within the construction industry.
As EPDs are formal reports of a material's environmental footprint, they can also be used by specifiers in order to help control building waste. Waste in the construction and demolition industry is currently a very significant issue, and via EPDs, the re-use and recycling of building materials can be encouraged.
Most importantly, making informed product choices at the specification stage could contribute to the reduction of the building developers' carbon footprint over the life-cycle of the building, which can be used as a status symbol and help the developer stand out in this very competitive market.
What are the business benefits of EPD?
EPDs are not beneficial for the construction industry only. Via this comprehensive report, architects, engineers and designers are also able to choose the most sustainable option for their project. Last but not least, EPDs allow manufacturers to optimise the impact of their products and market their carbon transparency.